I've never seen a ghost.  I was pretty creeped out at several Civil War battlefields, and I woke up one night at my hotel in the medieval part of Toledo (Spain, not Ohio) hearing chains rattling and convinced my rental car was being towed…even though it was safely parked in a lot several blocks away.  But I can't say that I've ever "seen" a ghost.  My husband and sister, on the other hand, have seen several.  And these are smart, educated, practical people, so if they say they've seen ghosts, I believe them.
I have read, though, about lots of ghosts, most recently in the two books I just finished.  While at first glance The Marriage of Opposites, by Alice Hoffman (Simon & Schuster, 2015) and American Ghost: A Family's Haunted Past in the Desert Southwest, by Hannah Nordhaus (HarperCollins, 2015) are quite different, they include a cast of "ghostly" characters that tie them together and make them fun October reading.  Set primarily in the disparate locations of the Virgin Island of St. Thomas and Santa Fe, New Mexico, both introduce us to European-born dead women with unfinished business.  And they are both extremely well-written.
The Marriage of Opposites is not particularly a ghost story, though.  It fictionalizes the life of Rachel Pomié Petit Pizzarro, the mother of Impressionist painter Camille Pissarro.  Hers is a fascinating story.  A member of a close-knit Jewish family fleeing European persecution, Rachel is first married to a much older business partner of her father's (his first wife is a fairly influential ghost in this novel).  When he dies and his nephew comes from France to oversee his affairs, she and the nephew fall in love, in contravention of community taboos against marriage between "family" members.  They do eventually prevail and marry, but when one of their sons chafes against the expectation that he will follow in the family business and chooses to pursue art instead, they initially disapprove.  How Rachel comes to accept her son's talent and different life choices (including, paradoxically, a Christian wife of lower social standing) makes this novel engaging and thoughtful.  And in the hands of Alice Hoffman, magical.  Hoffman has been compared to Gabriel García Márquez, and I suppose the tropical setting of this particular novel could lead one to that conclusion, but I find her approach to magical realism to be a bit kinder and gentler.
As someone married to a painter, I also found the descriptions of a young Pissarro's obsession with capturing colors, light, and shapes to be spot on.  In many ways, Hoffman's narrative takes on an Impressionistic feel of its own.  With her exquisite writing, his lovely novel comes as close as I've ever read to really capturing the experience of viewing a painting.  Or of sensing the presence of a ghost in the corner of the room.
In contrast, the whole point of American Ghost is to explore the life of Julia Schuster Staab, the great-great-grandmother of Boulder author Hannah Nordhaus and "Santa Fe's most famous ghost."  Julia is believed to haunt the La Posada hotel, which was originally the extravagant home built by her husband, Abraham, one of the wealthiest and most influential men in 19th century Santa Fe.  Julia and Abraham were also Jewish, of German origin, and it becomes clear that while Abraham thrived in the rough and tumble American Southwest, Julia did not.
Alternating between visits with psychics, interviews with far-flung family members, and meticulous academic historical research, I found this book to be more than just an exploration of whether there really is a ghost at La Posada.  It is an entertaining and extremely well-written history that illuminates the challenges of being a woman on the American frontier.  As someone who often wonders about the stories that brought my own family to the West, I loved Nordhaus' narrative.  She captures the ebullience of new possibilities and new wealth, the multi-cultural interactions of 19th century Santa Fe, the grinding, sometimes dangerous realities of a very different landscape from that of Julia's native Germany, and the psychological/mental health demons that I know first-hand can haunt generations of a family even more than any "ghost".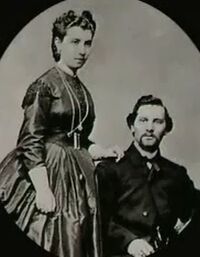 In a few days I'm off to historic Charleston with my husband, sister, and mom.  Who knows, maybe we'll even take a ghost tour?  It seems like an appropriate thing to do in October.  Not that I think I'll see anything…